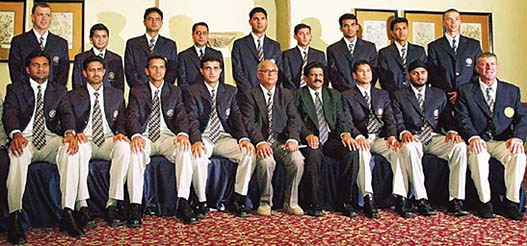 Think it is the time for my next post.. wud u guess about wat its gonna be, from the title??
Yep its about the coachless Indian cricket team and its future!
As a true fan of the indian team i express my concern abt its future.. why is it dat nobody is coming forward to take up this "

prestigious job

"??? is it bcoz of d damn ego politics inside d dressing room?? The players have been so irresponsible dat they have blown up the chance of winning the biggest prize in cricket-THE WORLD CUP.. not only that the dreams of 1billion ppl was shattered overnight!!
Players like sachin, sourav & rahul who were once worshiped as heroes, are now the culprits!!not to mention abt "GR8" CHAPPELL , the master mind behind all the non-sense!!After the media came out wid all these non-sense and the interviews of d national selectors blaming the coach, which person would offer to fill in the spot?? The person chosen by the BCCI, Graham Ford denied d offer as any person who had witnessed all the controversy wud do!! the only foriegner who is ready to take up the job is Dav Whatmore but the Panel is afraid to fill in d void wid another Aussie!! Why not an indian then?? Wid so many senior cricketers around cant they pick one??
So now wat is d BCCI's decision??Where is the future of Indian cricket team going?? An indian to fill in or any foriegner?? Or

is the team gonna play without a coach?? (like ekalavya learnt archery without a teacher???)

But the point is that he was successful in his mission..will d indians succeed?? will they bcum proffesional enough to find the consistency of winning matches against quality oppositions???